Whether you're already marketing to customers in the European Union or you're looking to get ahead of your competition when it comes to data best practice, the 'GDPR In A Nutshell' whitepaper will help you take the necessary steps towards compliance.
Complete the form provided to receive a link to download the white paper. Within it, you'll find:
The GDPR legislative background and insights into how laws and consumer expectations are changing
Consumer rights and your obligations as a Marketer
10 top tips on how you can meet your obligations with marketing technology
Common myths & FAQs
'GDPR in a nutshell' WHITEPAPER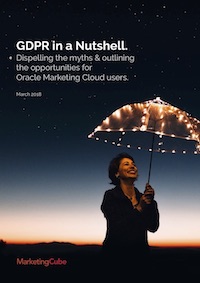 The General Data Protection Regulation (GDPR) is a new data protection law that came into effect on the 25th May 2018.

This in turn means that organisations have a number of obligations that are required to be met to be GDPR compliant, and this will impact the way that marketers collect data, manage personal data and protect personal data.

While it was created to protect European Union (EU) citizens, it provides some insights into how data protection laws and consumer expectations are changing worldwide.