If you're using Eloqua's Simple Email Campaigns function to deliver event registration campaigns, you're going about it the wrong way.
Multi-step campaigns empower you to take maximum advantage of the "automation" in marketing automation. The Single City Event Registration Guide will give you step-by-step instructions and includes screen grabs of campaign canvas layouts.

Why you need this guide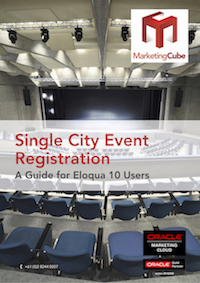 Taking advantage of the automation you have as an Eloqua customer will enable you to launch your invitations and walk away and complete other tasks - like locking in a great menu for your event.

Eloqua will know who has registered, who has not, issue "final chance" emails and then send email and SMS reminders to those who have registered.

Now you're on the journey to Modern Marketing.

Key Areas Covered in this Guide

Much of the power and automation that you have access to as an Eloqua user comes from Multi-Step campaigns and the Form Processing Steps


Done well, your campaign can automatically notifiy sales people when their contact registers

Automatically send confirmation emails based on responses in your form e.g. different venues in one form

Automatically add registrants to a reminder campaign leading up to your event

And even capture their beverage preference so you can greet them with their Orange Mocha Frappuccino on arrival!

And generally save time.