Learn how mobile marketing can be your most effective engagement strategy
Regardless of whether you're marketing to consumers or businesses, the overarching message is clear: it could all be done much better on mobile.

"Mobile is becoming not only the new digital hub, but also the bridge to the physical world. That's why mobile will affect more than just your digital operations — it will transform your entire business."

- Better Lead Yield in the Content Marketing Field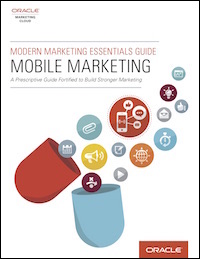 Read this easy to digest guide.
Most of us are still not leveraging the native capabilities in mobile well enough. Viewing mobile as a channel rather than the media itself is limiting marketers creativity and audience engagement.

The Modern Marketers Guide to Mobile Marketing will help you to leverage mobile marketing through:
Cross Channel Orchestration - there is more to mobile marketing than purchasing special apps. It is about unifying your technologies to monitor signals from each channel. Utilising marketing automation can be a great help here


The use of Smart Data & Signals - Grow your communication strategy by integrating with online devices to respond to real-time contextual information


Creating a holistic view - understanding the customer will help to enable personal interactions, allowing the marketer to provide valuable content in the right context at the right time.